Lake Wales, Florida is a small community in the heart of Florida. There are many things to see and do in Lake Wales and the surrounding area. Lake Wales is home to Bok Tower Gardens, Spook Hill, and is the winter home of the Black Hills Passion Play.

Lake Wailes (the lake) is at the heart of Lake Wales (the town). For July 4, 2000, the city commissioned a new pier and gazebo at the refurbished park. We recently visited the pier and got some great pictures. Also on this page are some great Lake Wales sunsets. You can click on the thumbnails to see a larger version.

This is the pier and the gazebo looking out over the lake.





There are many breeds of ducks that live on Lake Wailes. As you can see, the sunset is beautiful.





Here's a beautiful shot of the sunset reflecting in the water. The second shot is one I took out the car window going down Highway 27 on January 6, 2001. (I remember the date because that's my son's birthday!)





This first shot was taken early one summer morning at my mother's house. I was dropping the kids off on my way to work and thought this would be a beautiful shot. The purple sunrise was taken in my subdivision as my daughter and I were waiting at the bus stop one morning. As you can tell, Florida sunrises and sunsets take on many different guises!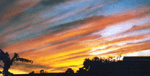 This red sky at night was taken in my yard and the brilliantly colored sunset was taken by my mother at her home on the North side of Lake Wales.


See my Bok Tower Gardens and Spook Hill Page


Here's some local links:
Bok Tower Gardens
Lake Wales Historic District
Lake Wales Depot Museum
City of Lake Wales
The Gallery
Polk County Florida Online
Camp Mack on Kissimmee River
The Legend of Spook Hill
Spook Hill, Lake Wales, Florida
Circle F Dude Ranch
World Skydiving Center
Lake Wales Art Center
Fantasy of Flight
Ridge Audubon Society


I hope you've enjoyed seeing my Lake Wales pictures and will visit the local links to learn more.


Visit My Site Directory

to see the other pages I've created for your enjoyment!