You can click on the thumbnails to view the larger pictures.

The first picture was taken of the sign on the Mountains announcing Calico. The one on the right was taken as we were driving up to Calico. I just fell in love with the Barstow area. The mountains are so beautiful. I took 16 rolls of film in 10 days. LOL. I'm a picture nut!

These 2 pictures were taken from the top of an observation mountain.

Here are some snaps of 2 of the signs that tell all about Calico.

These first picture was taken in the Blacksmith's shop and the second is of the Church/School of Calico.

The left picture is of one of the beautiful mountains at Calico. The picture on the right is of a dry lake bed taken from the observation point. The light sandy area is the dry lake bed - which are abundant in the high desert.

Graphics By: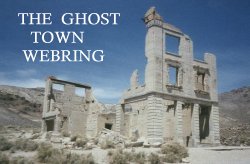 This RingSurf THE GHOST TOWN WEBRING Net Ring
owned by Terri Lynn's Calico Page.
[ Previous | Next | Random Site | List Sites | Join]